A segment of the final mural installation
First off, great job to all of the artists who truly worked hard and pushed themselves to put together this AMAZING piece that will remain with the University of Michigan for years to come. It looks stunning in its final presentation installed on the walls of Palmer Commons. I knew it was going to turn out sensational, but from looking only at separate panels one at a time laying out on the studio floor, it was probably near impossible to envision the visual impact it would actually have once completed.
Second off, sorry for putting up this info kind of late. I've been pretty busy this semester and unfortunately haven't been able to schedule in my weekly studio drop-ins that I looked forward to last semester. So this semester, I don't have the same weekly hour to dedicate my undivided attention to Art in Public Spaces blogging time. (Insert genuinely sad face here).
It was a neat experience to stop in every Friday and see the student's work progressing through time. I didn't actually contribute to the painting of the mural, but I still felt included in the process since I was able to record images and talk to the student's while their creative fuels were at work. I saw the many frustrations the artists experienced first hand (like Simi trying to remake a particular shade of purple) as well as their successes and triumphs (like Tashina finally laying down all the paint and details of the massive baby face she painted).
If you would like to relive some of the experiences the students have had while venturing on the mural journey, be sure to check out the videos below put together by Steve Coffey, Megan O'Neil, Mandira Banerjee, and Maryanne George:
Some Lovely Videos Capturing the Raw Experiences and Reflections of the Whole Collective Process:


And Just a Few More Visuals...


The talented students responsible for the massive art work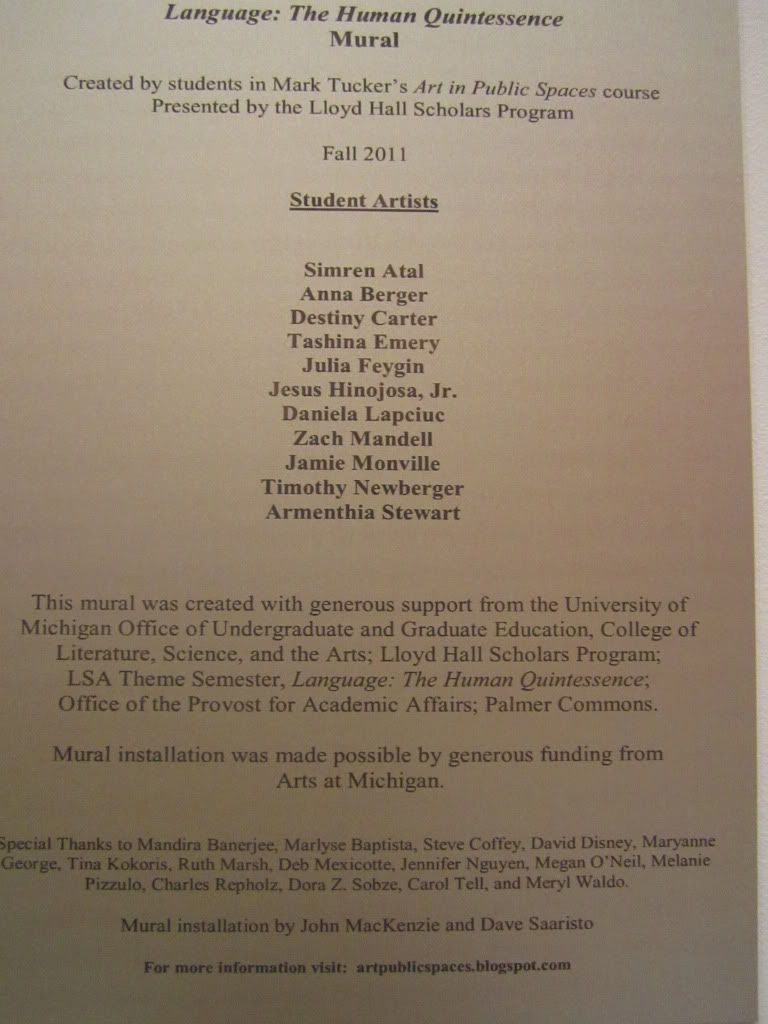 The official plaque hanging up alongside the mural
And Last But Not Least...
The Cake
(I won't ever forget such a unique cake, perfect for celebrating the installation of such a unique mural.)
If you weren't able to attend the unveiling, we missed you there! There was a great turn out. Be sure to drop by Palmer Commons sometime soon to see the final piece up close!
-dora